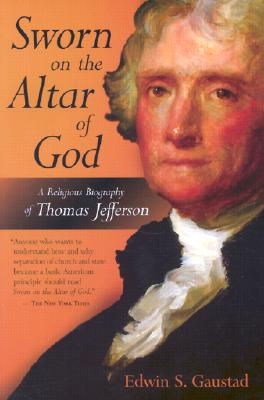 Stock Image
Author Name Gaustad, Edwin S.
Title Sworn on the Altar of God: A Religious Biography of Thomas Jefferson
Binding Trade Paperback
Book Condition Very Good
Publisher
ISBN Number 0802801560 / 9780802801562
Seller ID 437299
Trade Paperback - 0802801560 [GAUSTAD, EDWIN] SWORN ON THE ALTAR OF GOD: A RELIGIOUS BIOGRAPHY OF THOMAS JEFFERSON
More Description
This acclaimed biography explores the religious life of Thomas Jefferson and the contribution his strident commitment to religious liberty made to the formation of the nation. Renowned historian Edwin Gaustad chronicles Jefferson's intellectual growth, paying particular attention both to Jefferson's private struggle to come to grips with his own faith and to his public role as champion of religious liberty. This volume is must reading for anyone interested in the religious life of one of America's most significant figures.
Price = 6.50 USD